The Ministry of Natural Resources' 2004/2005 Competitive Site Release for the North Bala Dam was for the Crown land south of the Bala north falls ("Proposed site", below), which has an area of 765 m².
However, the MNR intends to also release to the proponent – in perpetuity – the three other Crown lands sites they own in Bala (click for a larger view).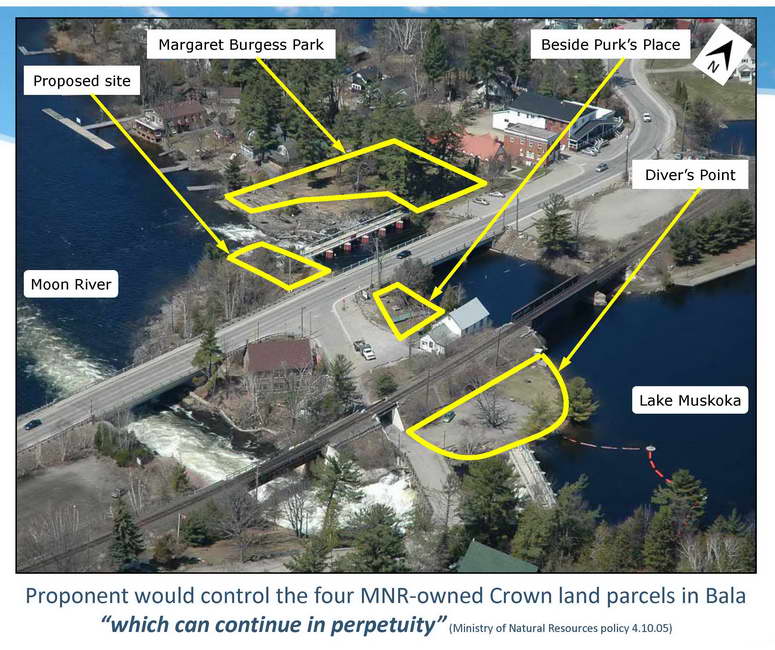 These other sites have a total area of 3,190 m². So not only does the MNR plan on releasing more than five times the public land they originally disclosed, but most all the public land in Bala become controlled by a private developer.
So if the developer's operator, or lawyers, or insurance company told them the public could fall climbing the rocks in Margaret Burgess Park or get sucked-into the proposed water intake downstream of the land beside Purk's Place, the developer could fence off these areas from public access. Or if they felt this didn't reduce their liability enough, they could use barbed-wire fencing, as is already installed at all three of the generating stations at and north of Bracebridge Falls.
And if you think that Bala is too beautiful and nobody would ever install barbed-wire fencing, the decision to use barbed-wire fencing in Bracebridge was made by Bracebridge Generation, the same company that would operate the proposed Bala hydro-electric generating station.