In 2009 the proponent released their Environmental Screening Report for their Option 2 proposal. While this would have obstructed the Bala Portage at the Bala Bay end (beside Purk's Place), as shown by the red line below, it would still have been possible to reach Bala Bay from Diver's Point (click for a larger view).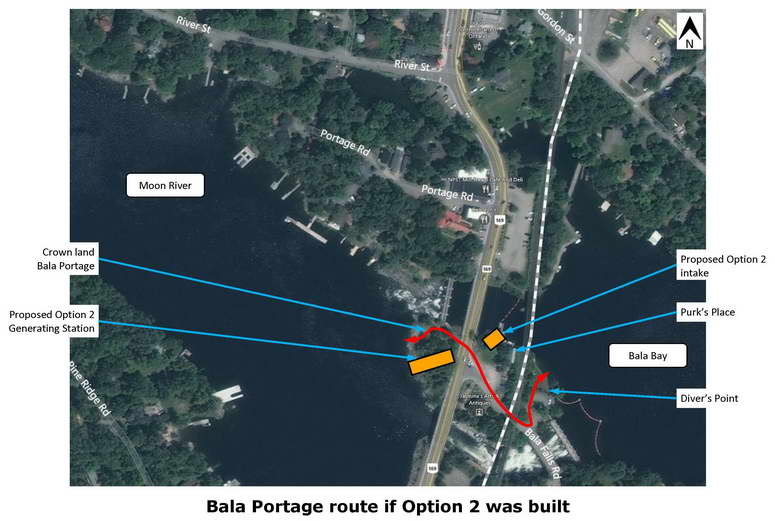 The proponent's current proposal was presented in their 2012 Addendum, and they referred to it as Alternative 1A. This proposal would completely obstruct the Bala Portage at the Moon River end, as shown by the red line below.
There are no acceptable alternate portage routes to reach the Moon River, as:
Margaret Burgess Park would be fenced-off during construction, and apparently afterwards as well.
Using the Township docks on the Moon River requires trespassing on private property. Also, this route is unacceptably dangerous as it would require:

Portaging along Portage Street, which has no shoulder and no sidewalks.
Walking along Muskoka Road 169 behind or beside parked cars.
Crossing Muskoka Road 169 just south of the curve in the road, so cars approaching from the north and portagers cannot see each other until they are too close.

Portaging along River Street requires paddling on Burgess Creek under the Muskoka Road 169 bridge, where the water speed is too fast.
Additional detail is here.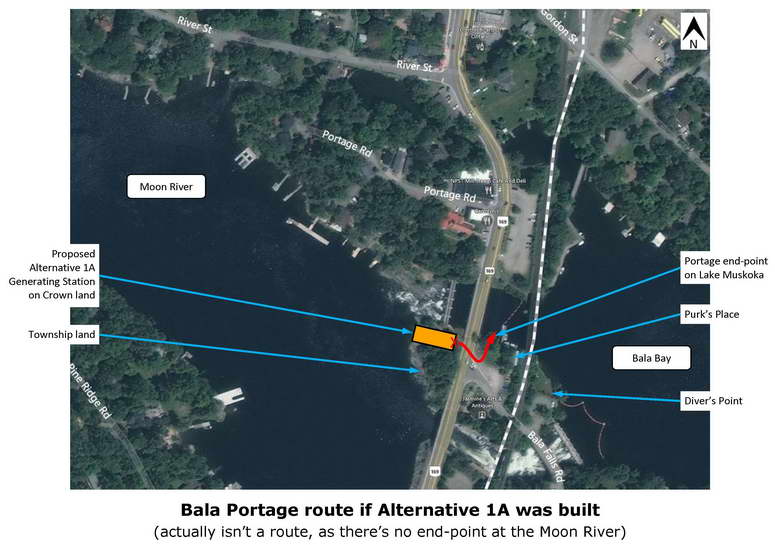 The Bala Portage has always been south of the Bala north falls (detail here), and this continues to be the only acceptable portage through Bala.