As you can hear for yourself (click the player below) …
 
… at the All-Candidates meeting at the Bala Community Centre on September 22, 2014, Township of Muskoka Lakes Councillor and Mayoralty candidate Don Furniss said:
The occupation of this hydro site by paid protesters with Aboriginal involvement is a charade, concocted by your Mayor and other Save the Bala Falls fanatics to turn Bala into Caledonia North. This nonsense has to stop.
As confirmed by Peggy's signed letter of September 29, 2014 which was sent to the local media, she is not being paid (indeed, I don't think anybody could be paid enough to camp out for a month if they didn't really want to), and Mayor Murphy had nothing to do with this, and SaveTheBalaFalls didn't either. Furniss sees conspiracy where there is none, and does not believe that people are passionate about their belief that the proposed hydro-electric generating station at the Bala falls is simply wrong.
Remarkably, as the MooseFM article below reports (click on it for a larger view, or click here for a text version), Furniss seems be forgetting that his web site says he believes in the principles of "morality and proper manners".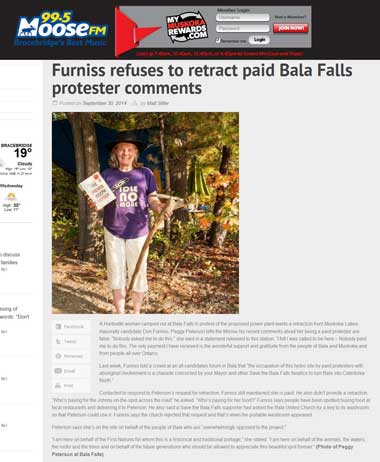 Confronted by the facts, MooseFM reports that Don retracts to "Who's paying for the Johnny-on-the-spot across the road" – sorry Don, its been donated by G.B. Services Muskoka (call George Becker at 705 762-2170 if you need one).
So then Don asks "Who's paying for her food". Yes Don, people are bringing her food, lots of people are, not just "Save the Bala Falls fanatics". There's not much else possible when she's always on the site. And people bring her coffee too. And Bill Purkis gives her an ice cream cone sometimes. And neighbours welcome her to use their showers and washrooms. And children in the neighbourhood bring her firewood, and have painted the murals – using washable paint I hear you'll be happy to know. This is the "divided community" you were so worried about. We're all doing just fine here.
What worries us most is that Furniss' comments were part of his prepared speech. He didn't just mis-speak, he intended to make these accusations without knowing them to be true. This is not someone I want making decisions for, and representing the residents of the Township of Muskoka Lakes.
In MooseFM's article above, Peggy is proudly holding a copy of The Orenda, which won the CBC's Canada Reads contest this year. This is because this is a signed copy, given to her by the book's author Joseph Boyden, as we can see below.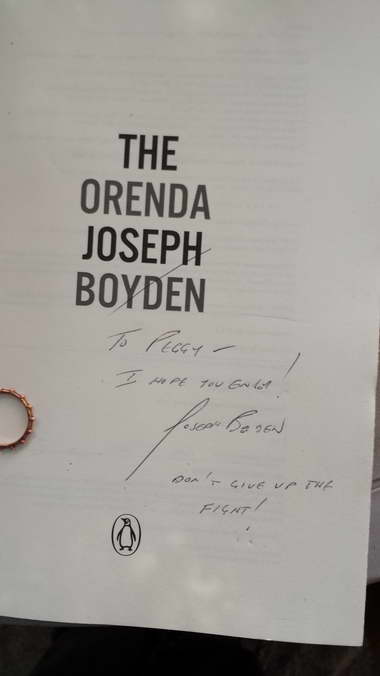 Boyden writes:
To Peggy – I hope you enjoy!   Joseph Boyden   Don't give up the fight!