The proponent for the proposed hydro-electric generating station at the Bala falls has installed an upstream cofferdam. This obstructs about half of the Bala north channel, as you can see in the photograph below (click on it for a larger view). This view is looking south from the parking spaces in front of Margaret Burgess park; the Muskoka Road 169 bridge over the Bala north channel to the left, and the Bala north dam to the right.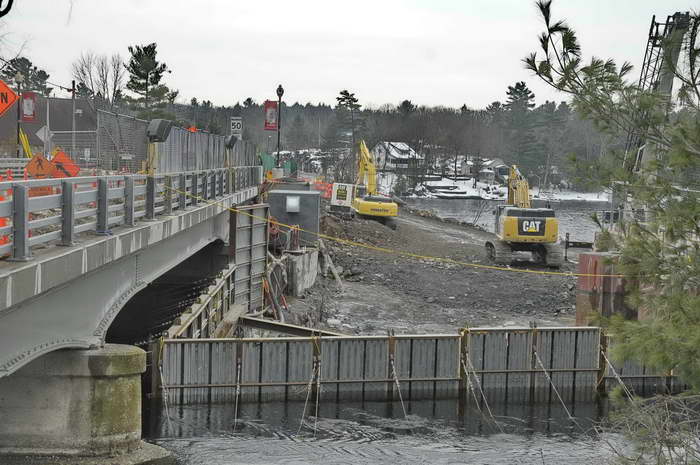 As the full flow capacity of the Bala north channel is needed when there is a heavy rain storm, the proponent's approval from the Ministry of Natural Resources and Forestry requires that the proponent remove this upstream cofferdam upon 24 hours notice of a flood watch. You can read this condition for yourself in the MNRF's approval here, in item 7.
To meet this condition, the proponent has provided both written and verbal assurance that their construction sequencing would ensure they could always remove their upstream cofferdam on 24 hours notice.
However, as can be seen in the photograph above, the proponent has reneged on this commitment and are therefore not complying with their permit conditions, as they have fully excavated the south shore of the Bala north channel. If the proponent was to remove their upstream cofferdam, the resulting flow would bypass the Bala north dam, as shown by the blue line in the figure below.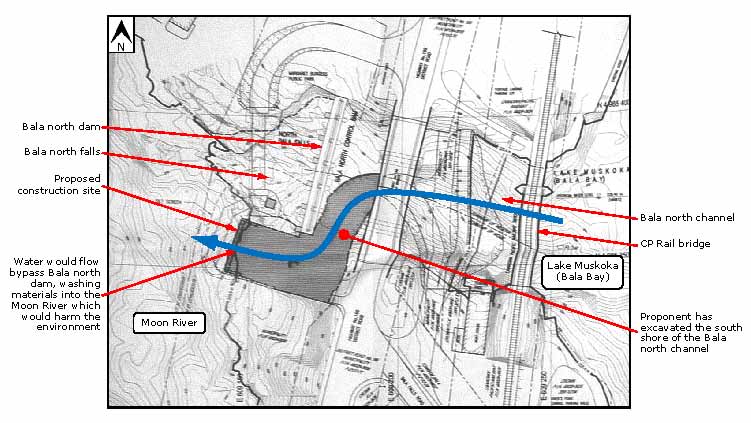 Such flow bypassing the Bala north dam would result in washing all the surface materials directly into the Moon River, which would cause environmental harm and this is not allowed according to their environmental approval.