Over the next four weeks, the proponent will need to build a 50′-wide, 12′-high temporary dam at their proposed construction site, as shown below (click on it for a larger view, this view is looking south from the parking in front of Margaret Burgess Park, the Muskoka Road 169 bridge over the Bala north channel is on the left, and the Bala north dam is on the right).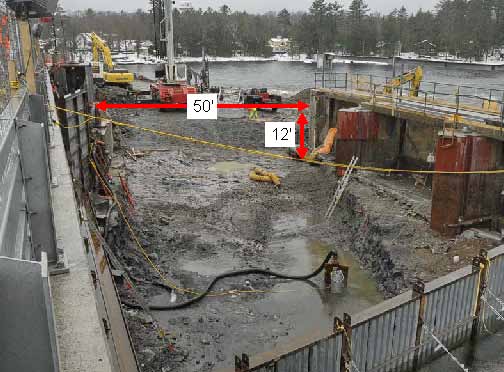 Not only would this temporary dam be as crucial infrastructure as the Bala north and south dams (as a failure would be disastrous), but the proponent has stated they intend to continue their proposed blasting and excavation adjacent to this temporary dam.
As dams are crucial public infrastructure, their design must be reviewed and approved by a Professional Engineer at the Ministry of Natural Resources and Forestry. Such approvals typically take months, yet this temporary dam would need to be approved and built within the next four weeks.
If the MNRF requires too long to review this design, then the proponent's cofferdam could not be removed by the March 1, 2018 deadline to avoid flooding Lake Muskoka during spring freshet. If there isn't enough time for a full review, the proponent may start construction on a poorly-design temporary dam which could fail.
So the MNRF allowing the proponent's non-compliance with their permit conditions has created a seemingly impossible situation for the MNRF. 
We have therefore sent this letter to the MNRF.