The proponent sent this letter to Township Councillors attempting to pressure them into signing the lease the proponent desperately needs to facilitate their proposed construction.
The proponent attempted to add to this pressure by both sending the letter to the local media and also publicizing it through Twitter.
What the proponent didn't tell the public or press is:
This lease would only be to the proponent's benefit and would be to the detriment of the area businesses, due to the loss of half of the parking in Bala, as summarized below (click on it for a larger view).
The proponent has not committed that for as long as the proposed generating station operates, Margaret Burgess Park will remain open to the public, and that it will not be fenced-off.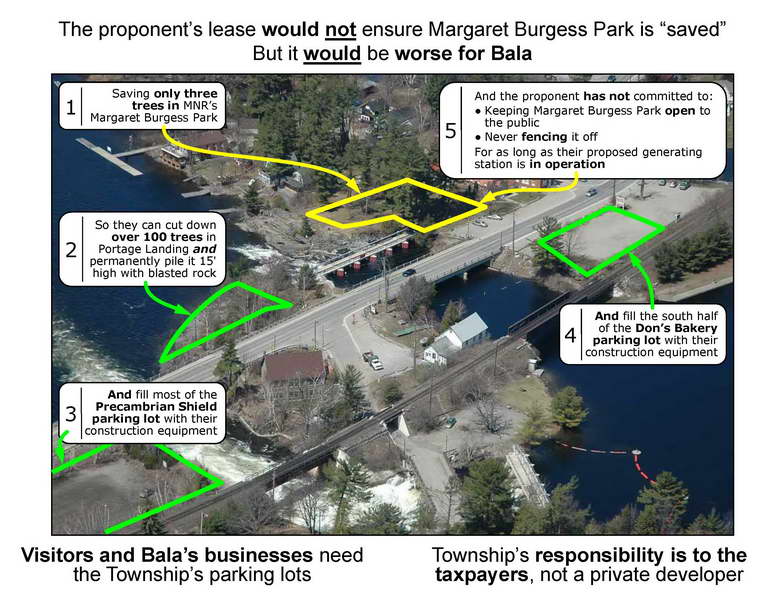 The proponent:
Would occupy the north half of the Precambrian Shield parking lot throughout the years of proposed construction, and would occupy the south half of the Don's Bakery parking lot for more than half of each year throughout the years of proposed construction. The area's economy depends on visitors, who arrive by car and need to park. Losing this parking is favouring the proponent instead of the municipality's taxpayers.
 
Would cut down over 100 trees instead of just three. They aren't "saving" anything, just being more destructive than need be.
 
Has not committed to "saving" Margaret Burgess Park after their proposed construction is completed. So they would not save anything.