Our previous article described that the proponent must treat and test the water pumped from their proposed construction before it can be discharged to the Moon River.
The major problem and unacceptable situation is that the proponent's water treatment system is gushing untreated water all over the Precambrian Shield parking lot. Julie Cousineau's photograph below, taken on Friday November 17, 2017, shows the untreated water has been pouring for so long that it has formed icicles.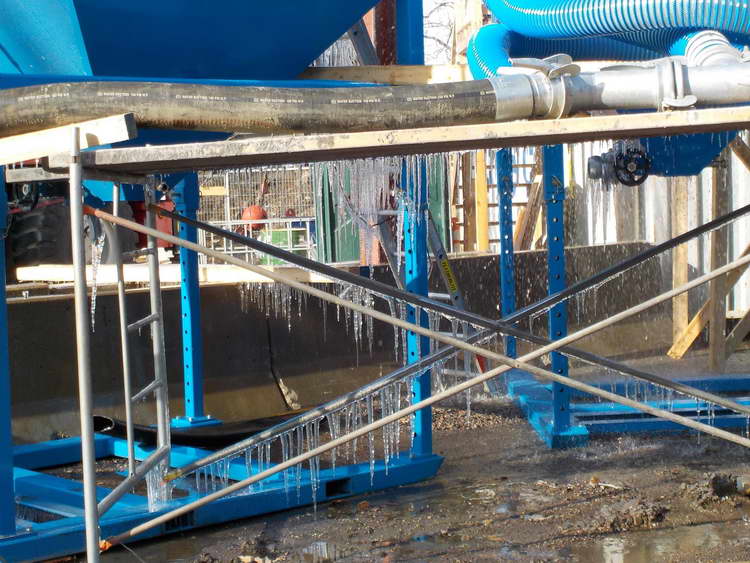 Or you can watch videos of this water:
This dumping of untreated water into the Precambrian Shield parking lot (and from there, it runs into the Moon River) is an unauthorized spill according to the Environmental  Protection Act, and has been reported to the MOECC's Spills Action Centre, which results in the MOECC's Barrie District Office investigating. This has also been reported to CTV Barrie, and the Township of Muskoka Lakes fire department. So far, there has been too little response to this unauthorized spill.
Even though the proponent has known about this spill of untreated water in contravention of their ECA since November 13, 2017, as of at least November 17, 2017 they had still not reported this to the Ministry of the Environment and Climate Change, which is also in contravention of their ECA.
The likely cause is that ground water is leaking into the proponent's cofferdammed area faster than can be treated by these tanks, so the tanks are overflowing (similar to pouring water too quickly into a coffee filter). The proponent must therefore slow down or stop their pumping, even this affects their planned work. It is unacceptable to simply allow this untreated water to pour into the Precambrian Shield parking lot.
This demonstrates the proponent's complete lack of respect for other's property rights, and for their environmental commitments and obligations. It also shows the proponent's continued lack of communication with the public.